If you entered your address incorrectly or need to update it to a new address, we can help.
It's important to keep your address updated so that we are able to access your credit profile for new loans and report your payoff history correctly. If you are a(n):
New KoraCash customer: You might get an error message that says that we can't find your credit profile. On that screen, you'll be able to edit your personal information to ensure it's correct.
After applying, review the screen that says "Is this information correct?"
If the information is incorrect, click Edit Info
Input your correct information and click Confirm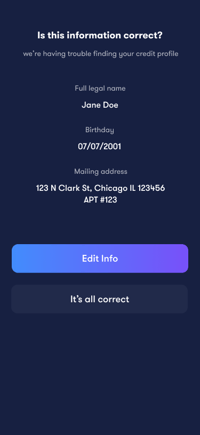 Existing customer: If you are an existing customer and need to update your address, we ask that you submit a service request ticket. Select "Other" and include your new address in the notes section. It should be reflected on the app within 1-2 days. An update that would allow you to do this right from the app is in development and will be live soon.