Once you've paid off your KoraCash in full, there's a few things you need to know.
We'll report the paid off KoraCash to the credit bureaus which will establish your positive credit history.
You also could be eligible to Recharge your account, or get another round of KoraCash. You'll get a notification when you become eligible and you can do all of it from the Kora app.




What is Recharge?
Once you've paid off your first round of KoraCash, you could be eligible to Recharge your account, or get another round of KoraCash.
Recharge allows you to get more KoraCash in one of two ways:
When you are first approved for KoraCash, you are given a total amount you can borrow, a.k.a your cash limit. If you don't borrow the full amount on your first order, you can recharge and get up to your cash limit.
If you borrow your entire cash limit on your first order and pay back on time, you can become eligible for more KoraCash. Once you've made payments over two successive months on your KoraCash, you could become eligible to Recharge.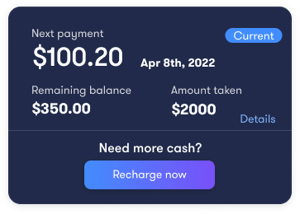 You'll get an email and a text message when you're finally eligible for Recharge. Your Recharge offer will last about 48 hours from when you get the message. Check back on the app to know for sure if you've got KoraCash available.
Hint: Paying back on time can help increase your cash limit over time. It pays to pay on time (plus it can help you build strong credit history)!
Why am I not eligible for Recharge?
If you're ready for another round of KoraCash and Recharge is not available to you yet, there may be a few reasons. Our Recharge decision engine runs twice weekly to decide who is newly eligible so keep checking back. Otherwise, there are a few reasons that Recharge might not be available to you:
Have you paid off your first round of KoraCash? We cannot offer you more KoraCash until your repayment of KoraCash has reached a certain amount. As you make more payments, your Recharge eligibility improves.
Have all of your payments settled? KoraCash payments sometimes take a few days to clear and settle. Once we're 100% sure we've received all of your payments, we may be able to approve you for Recharge. Just a heads up, you will need to wait 5 business days after your last payment to be eligible.
Were you late on any payments? If you had too many missed or late payments on your first round of KoraCash, we may not be able to offer you more KoraCash.
If you still aren't eligible and aren't sure why, please contact our customer support team so we can help you out.